"Having a strong Environmental, Social, & Governance (ESG) plan is critical in today's business climate. We have a responsibility to lead the charge and are committed to stewarding these areas well. Programs and projects that we engage in bring value and make us all successful."

Joe Puishys, SitelogIQ Chairman and CEO
At SitelogIQ, we deliver comprehensive facility and energy efficiency solutions that make buildings better for people in our local communities where they learn, live, heal, work, play, and shop.
We're focused on impact from three key areas:
Energy Management & Efficiency – to reduce, track, and report, for our customers' facilities, energy consumption and greenhouse gas emissions (GHG) reductions
Diversity, Equity, & Inclusion (DE&I) – to represent and reflect the unique experiences and perspectives of our people, partners, and the communities we serve
Data Security – to have a set of standards and technology that protect data from intentional or accidental destruction, modification, or disclosure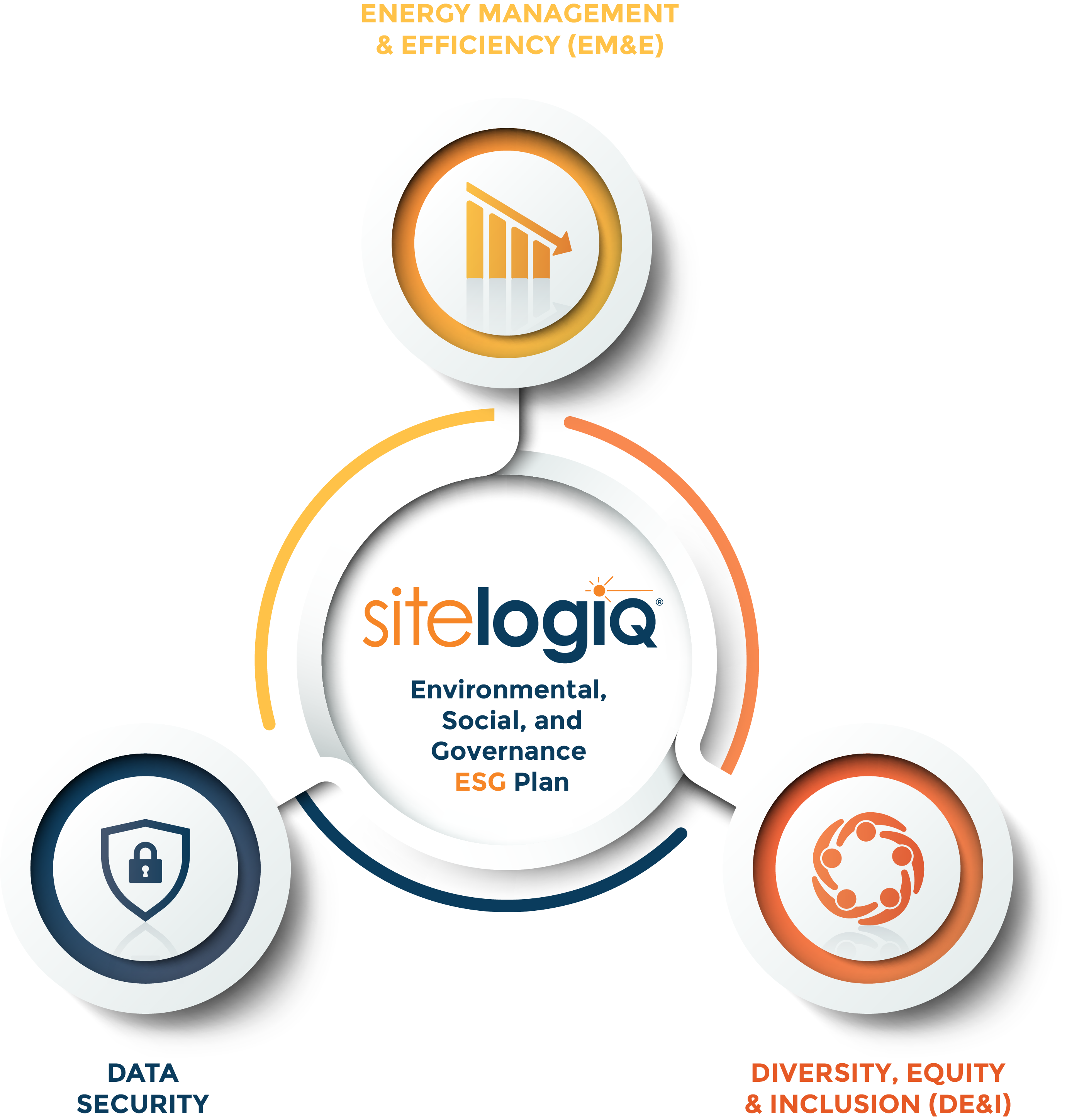 We're proud of the impact we're able to help our customers achieve as they work to meet sustainability and greenhouse gas emission reduction goals.
We believe in delivering projects with a purpose. We take pride in partnering with customers on their projects that perform well, provide value, and make a difference in the world through environmental stewardship. We have a responsibility to the environment and future generations to make smart and sustainable decisions.
We believe in our people and what they can accomplish. Our people are our greatest strength as an organization and we've got a team with deep technical expertise, camaraderie, and a passion for those we serve. We understand the importance of building and fostering a strong SIQ community that is innovative in our programs and celebrates each member of our team. We work hard to assemble a team of creative minds who are invested in the quality solutions they deliver.
We believe in accountability and the value it provides. As a company focused on efficiencies and sustainability, we're proud of the difference we make within SitelogIQ and in the local communities where we work. We recognize the importance of being transparent and are committed to highlighting our progress when it comes to our programs and practices. We appreciate the responsibility of leading by example.
We have formed an ESG Council to spearhead our organizational efforts and engage our SitelogIQ teammates. This group works together to drive initiatives that have a great impact on how we conduct our business and deliver exceptional, sustainable projects. There is a wealth of knowledge to be shared. Our team works with other leaders, our customers, contractors, industry partners, and local communities to make the world a healthier and safer place.
See how Apogee Enterprises prioritized sustainability.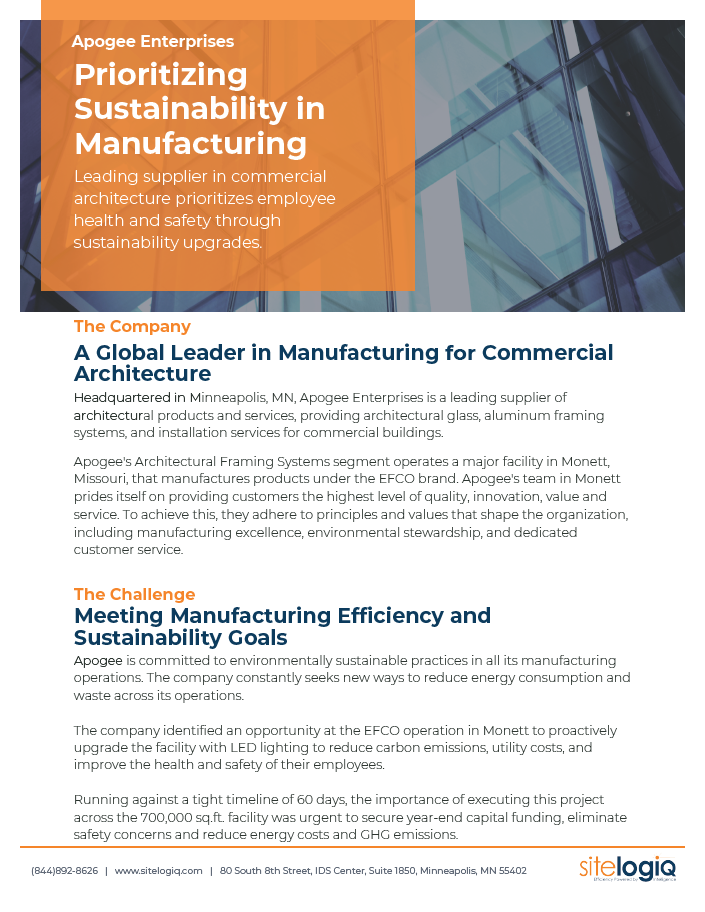 For more information about SitelogIQ and our energy efficiency and sustainability project solutions, please call 888.819.0041 or submit a form to be contacted by one of our team members.