SIQ Internship Program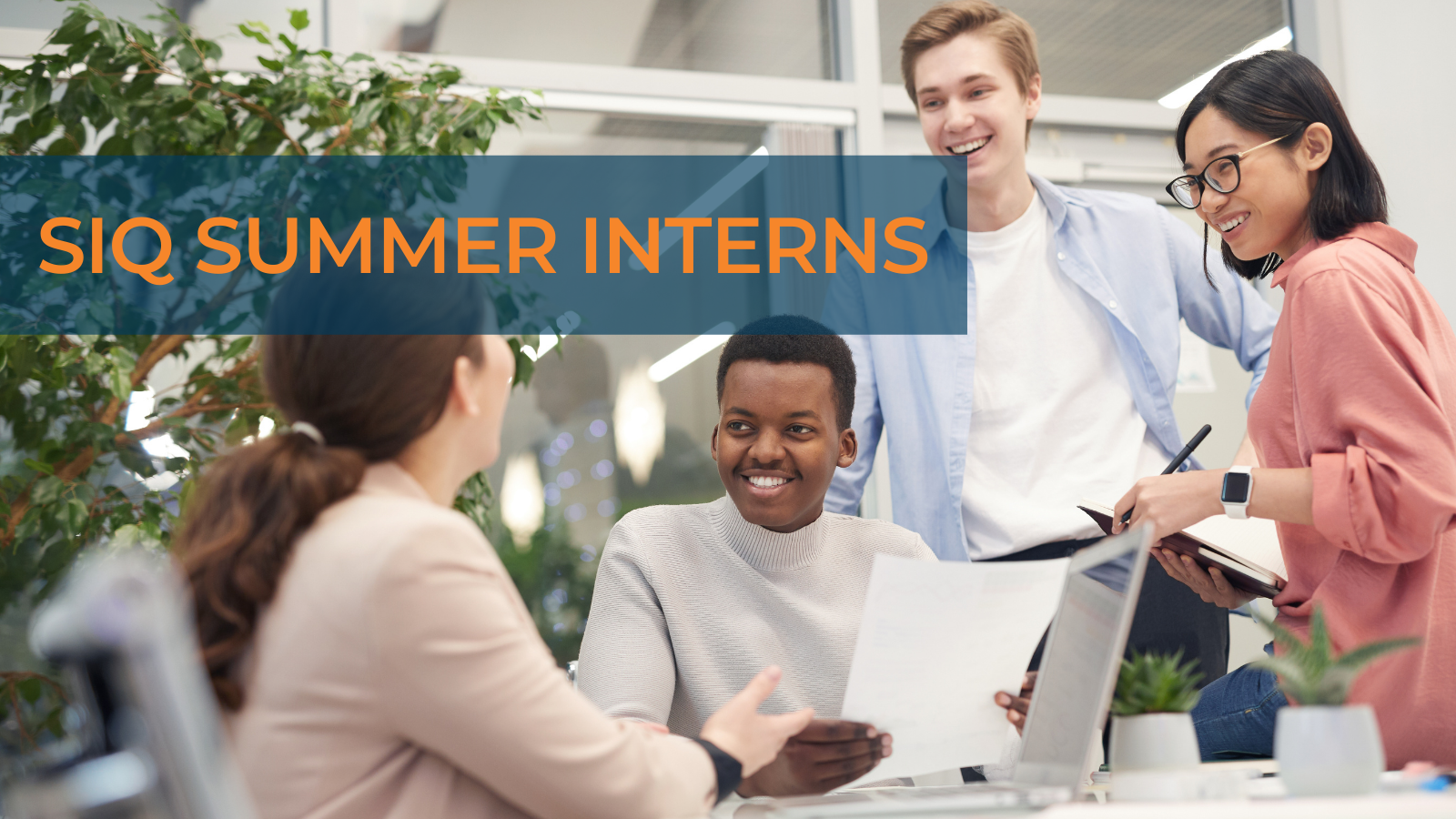 This summer, we were thrilled to see several business units welcome interns for the SIQ Internship program! Each of these bright individuals came from various backgrounds and all shared an interest in learning how projects come together. Continue reading below to learn more about their achievements and aspirations.
With Northeast we have:
Mary McCoy: Majoring in Mechanical Engineering undergraduate at Penn State University – Brandywine. Mary has been working with us since March 22nd on the Lower Merion project with Steve Orr.  She is now transitioning to work with our Development Team.
Domenick "Dom" Semrau: Attending Penn State University working towards his Integrated Bachelor & Masters of Architectural Engineering degree. He has served as the Executive Chair in the Engineering Undergraduate Council and is also a member of several organizations including the Illuminating Engineers Society and the Student Society of Architectural Engineers. Dom will be working with Nik Kindya on the Woodland Hills project.
 Alexandra "Allie" Orphall: Working towards her Bachelor of Architectural Engineering at Pennsylvania State University. She has been awarded the ACE Mentor Program Scholarship, M. Dean and Jean L Underwood Scholarship, and the National AP Scholar Award.  She is a member of many organizations including the Illuminating Engineers Society. Allie worked with Steve Reckhart on the Peters Middle School project.
Bradley "Brad" Koziol: Attending Penn State University majoring in Architectural Engineering with a near-perfect GPA. He has made the Dean's List each semester to date and also was presented with the PSU President's Freshman Award in 2019.  He is a member of the Student Society of Architectural Engineers as well as the Illuminating Engineers Society. Brad will be working with Chuck Levkulich on the Penn Ridge project.
Benjamin "Ben" Guaragno: Currently working towards his Bachelor of Science – Residential Construction Technology and Management as well as his Associate of Applied Science – Building Construction Technology at Pennsylvania College of Technology. Participates in Penn College Construction Association and is the Captain of the Penn College Men's Lacrosse Team.  "Go Wildcats!" He has volunteered at Habitat for Humanity and the York Food for the Poor Food Drive. Ben will be working with Chris Karper on the Governor Mifflin project.
With C&I we have:
Andrew Noonan: Majoring in Mechanical Engineering with a minor in Computer Science at Vanderbilt University and about to enter in his third year. Working alongside Xeria sharing a lot of overlapping duties and some smaller projects. Originally from Wilton, CT It is a small town about an hour from New York. Would like to work at the intersection of both engineering and big-picture operations and combine them creatively to help make other people's duties easier and more efficient.
Yu (Eva) Liu: Eva joined SIQ as a Data & Marketing Analyst Intern reporting to Garret Matsunaga and Gabe Schwartz. She's currently attending the USC Marshall School of Business for her Master of Science in Business Analytics. Eva is continuing to work with SIQ as she expects to graduate in December of 2021.
Xeria Keys: Studying Mechanical Engineering, with a minor in Engineering Management and interning as a Solutions Development at Vanderbilt University. Originally born in Knoxville, Xeria has lived in Nashville for the majority of her life. Recently made the Vanderbilt Dance Team for the upcoming school year and has been conditioning by rotating between running, boxing, and dancing throughout the week. When she's not training, she enjoys watching anime (Japanese animation) or YouTube videos, and reading manga (Japanese comic books).


Irina Tikhomirova: Irina is getting her MBA from UCLA Anderson School of Management. Reporting to Gabe Schwartz out of the Ontario office, she joined SIQ as a Product Management Intern. Her summer project was to develop the C&I division's ESG Advisory Services from concept into a successful commercial offering. Additionally, Irina conducted market research, developed positioning, defined the offering scope and delivery processes, and created an initial set of documentation and tools to launch the new offering. She also outlined a new offering development process to be used as a template for all future new offerings.
With the Midwest office:
Bryan Janckila: Studying Facilities Operations & Management at Dunwoody College of Technology in Minneapolis, Minnesota. Bryan joined the Midwest as a Facility Analyst Support Intern with duties in assisting this summer with on-site facility survey work – 360 photos, learning environment testing (Light levels, Sound Levels), and populating some of our internal deliverables with data entry assistance. After returning to school, Bryan will transition to working part-time a few days a week and staying on board as an intern throughout his schooling with the hope we could bring him on full time after his 2022 fall semester.