Public Sector Email Marketing Campaigns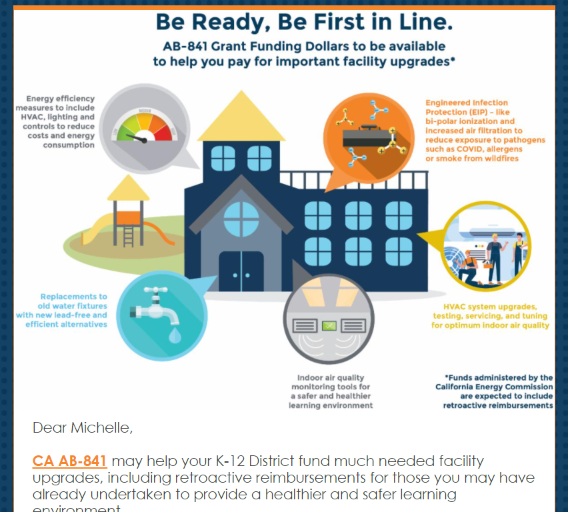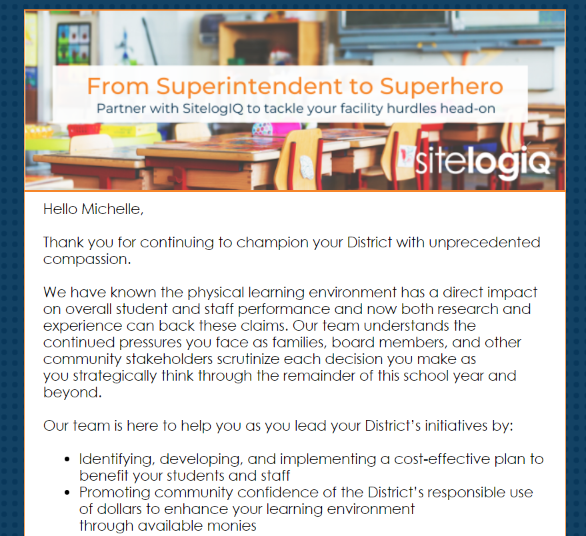 ESSER II Grant Funding: We targeted prospective K-12 Superintendents, Business Managers, and Facility Director across each business unit totaling nearly 6K contacts. ESSER deals we've seen close since this campaign launched include Oconto SD (WI), Randolph Eastern (IN) & Paynesville (MN).
Continuation of CA Bill AB-841 Outreach: Sent in late Q4 of 2020 to CA K-12 Districts, we continue to capture interest through our Website's contact form. Over 1,800 campaign opens occurred, with 21 contacts requesting contact from a rep for more information.
HOPE Webinar Series: Throughout the summer, a series of 7 Webinars were hosted by SitelogIQ, with guest speakers to include customers like Waterford Union High School, Armona Union Elementary SD, and Palmyra Area SD who enriched conversations with their experience and perspectives. For those who weren't able to attend, the slide decks and recordings can be found here. They can be used as a reference and shared in your business development efforts.
Private Sector Marketing: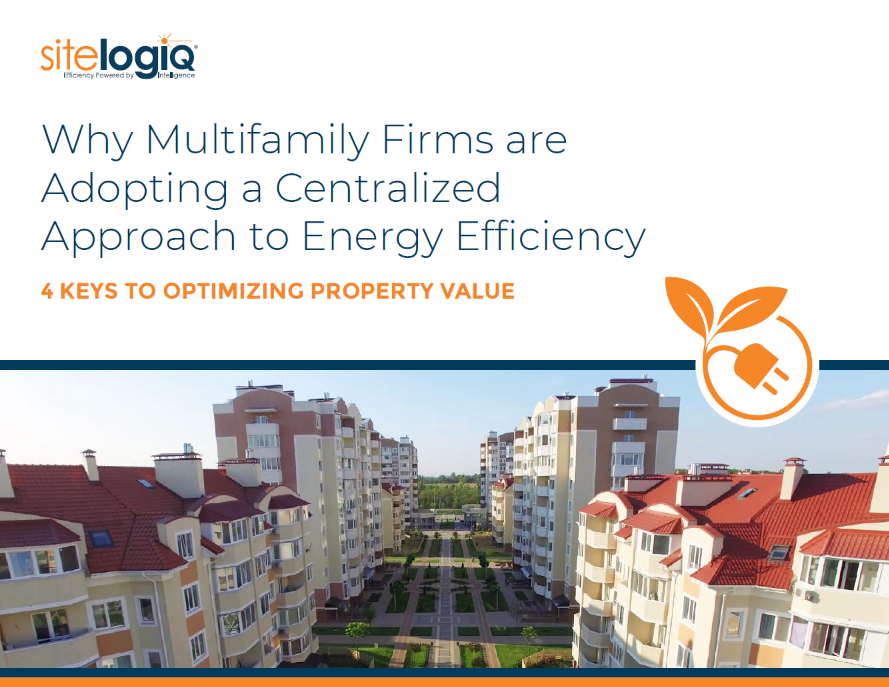 This year, C&I developed a multichannel paid and lead nurture campaign that has been rolled out to the Multifamily vertical. The nurture campaign includes an ebook (image above) for interested parties to download as well as more case studies are being developed and shared on the Projects page of the website. Currently, C&I is in the mid-second rollout to the Retail vertical, followed by rolling out into the Industrial vertical by the end of the year. They continue to generate traffic to the website which has contributed to a 70% jump in visitors, year over year, using sponsored ads on Linkedin and various targeted display ads on Google through the use of ebooks and long-form articles.
Superintendent's Council & The A-Team
The Council was formed as a resource for subject matter expertise while developing materials targeted towards our K-12 audience. This group includes our current SIQ K-12 representatives throughout each business unit who have previous experience as Superintendent. This council has been crucial in shaping our K-12 funding message and will continue to be a valuable source of insight.
Our A-Team led by SitelogIQ Educational Strategist, Dr. Lee Pritzl, has been working closely with our sales teams to develop key relationship-building skills to apply our newly formed HOPE (Helping Others Pursue Education) Program with current plans to target our current customer base (protect the base) in all nine states and then expand as shown below in the slide image.
We have AMAZING potential to strengthen and grow our core K-12 base to help them overcome the issue of how to better spend their ESSER dollars (over $40 billion total in available ESSER funds to our base alone!) while building savings to put toward their general fund for long-term investments, further improve the equitable learning environment for increased student achievement. We've taken our BU leaders and sales teams through the HOPE Program launch with lunch and learns held on Thursday, 5/6. Following this with our targeted outreach campaign to be shared Friday, 5/14 with a total of three leading up to what will be our Webinar series led by our A-Team.
The A-Team includes former Superintendent and education speaker, Dr. Stephen Peters, Mary Ellen Elia of Tsamoutales Strategies, and former Superintendent Denise Pontrelli who have been diligently behind the scenes to support our team. Below is the full agenda of the HOPE Webinar Series: