January 3, 2022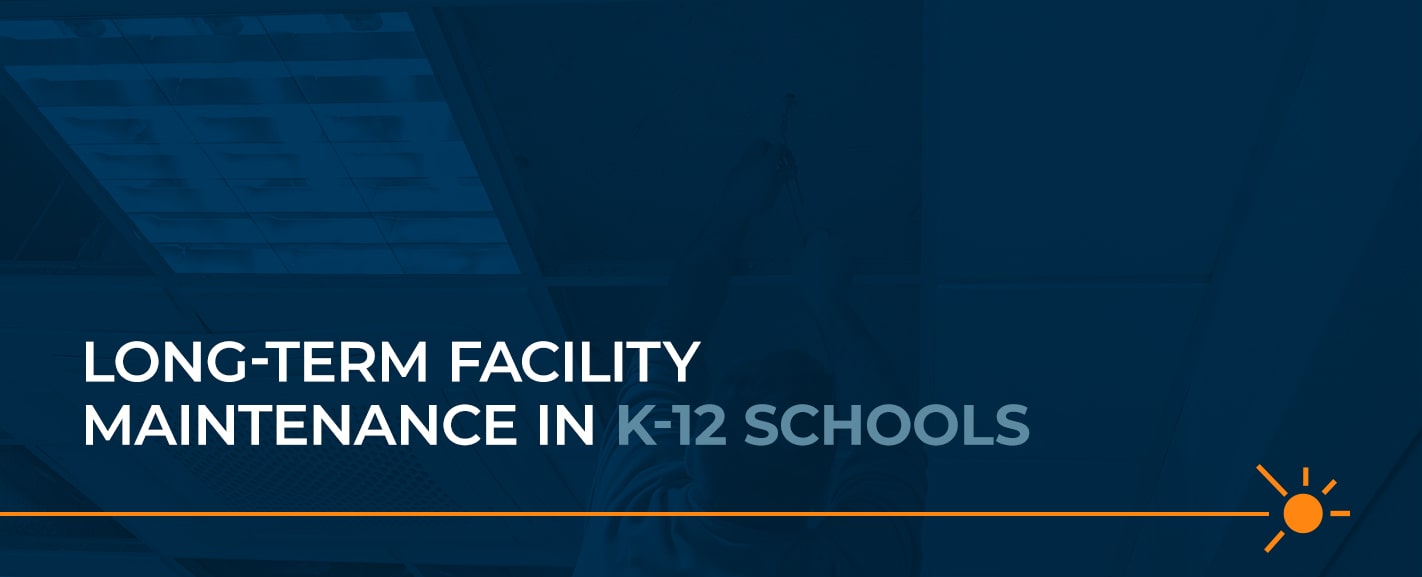 With limited funding and rising costs of operations, districts can't afford to pay for ongoing maintenance staff training for the more technical aspects of running a facility. As a result, certain key aspects of facility maintenance go unaddressed, which can lead to costly fixes. Students, parents, faculty, and community members should all feel comfortable in a well-maintained building, and administrators are faced with the increasing complexity of addressing district needs. So, how should one anticipate and prepare? Some of the main culprits in the expenses of aging buildings are:
Inefficient energy usage
Outdated systems
Lack of IT and communications infrastructure
Inadequate cooling and ventilation
Many of these issues exist in K-12 buildings, and they can seriously impact the quality of your student's education. Many district buildings were built several decades ago, and though a building may receive renovations and updates over time, facility issues eventually become apparent in most of these older buildings. Updating and maintaining advanced facilities requires significant expertise and dependable professionals.  Collaboration to develop, manage, and communicate the Long-Term Facility Maintenance Plan is made possible by mySiteIQ.
What Is Long-Term Facility Maintenance?
Long-term facility maintenance is a comprehensive plan to bring older buildings up to date over the course of an agreed-upon timeframe with our team and your district. It is aimed at achieving the most efficient use and safe learning environment conducive to future-ready schools.
To understand the importance of a long-term maintenance plan for district facilities, you can think of it in terms of car maintenance. There are many similarities between a facility maintenance plan and a car maintenance plan. For example, cars need many services — such as oil changes — performed routinely in order to continue operating at peak performance. Key areas of district facilities require similarly regular maintenance. A long-term K-12 facility maintenance plan is a collaborative effort between our team and your district to consider the current use and goals of your space by the community and its student learning. The plan also reviews the health and safety of current infrastructure as it relates to its architecture, engineering, and design integrity such as roofing, electrical, HVAC, lighting, and plumbing.
Technology is always changing, and building equipment is not exempt. When districts hire long-term facility maintenance teams, they are also hiring licensed professionals with in-depth technical and industry knowledge who keep up with ongoing research. Being able to assess old equipment and arrange new systems to work together requires a lot of planning, coordination, and experience, so be sure to use professionals with the industry experience needed to provide the best maintenance plan for your facilities.
Benefits of Long-Term Facility Maintenance
There are many benefits that come with planning for the future and having an effective facilities strategy. They include:
Contributing to the district's financial and instructional well-being
Improving the cleanliness, safety, and orderliness of facilities
Creating a more efficient facilities strategy, which decreases operational costs
Identifying issues proactively rather than addressing them when it becomes an expensive repair, unsafe environment, or catastrophic failure
Extending the life of district buildings
Increasing the efficiency, which also helps our natural environment
Formulating a long-term maintenance plan is also cost-effective and efficient and helps to avoid costly pitfalls by deferring necessary maintenance for too long. When committed to a regular district facility maintenance plan, buildings avoid incurring disastrous facility costs in the near and distant future. Here is how a plan can decrease costs over time:
Avoiding unexpected replacement costs
Requiring fewer renovation costs and fewer repair jobs, such as fixing leaking ceiling tiles
Cutting overhead costs thanks to increased system efficiency and schedule
Another benefit to having a maintenance plan is that it focuses on all aspects of your building's health. Since they house children for several hours every day, district buildings can't afford to fall behind on important maintenance issues. Here are most of the most critical areas, depending on your specific district's setup and needs:
Mechanical, HVAC
Electrical, Lighting
Plumbing, Water Conservation
Fire Alarm Systems
Building Envelope, Roofs
Long-Term Facility Maintenance vs. Master Planning
There are two main ways to think about facility maintenance planning — long-term facility maintenance and master planning. A master facility plan includes all building needs required to
support a building owners' objectives. It is comprehensive and will consider space use requirements, technology, and programming needs. Conversely, an LTFM Plan is focused on
maintaining the existing assets, it is primarily focused on the physical needs of a facility. In short, an LTFM Plan is a part of the client's Master Facility Plan but focused solely on maintaining
the building environment for comfort, energy, safety, and security.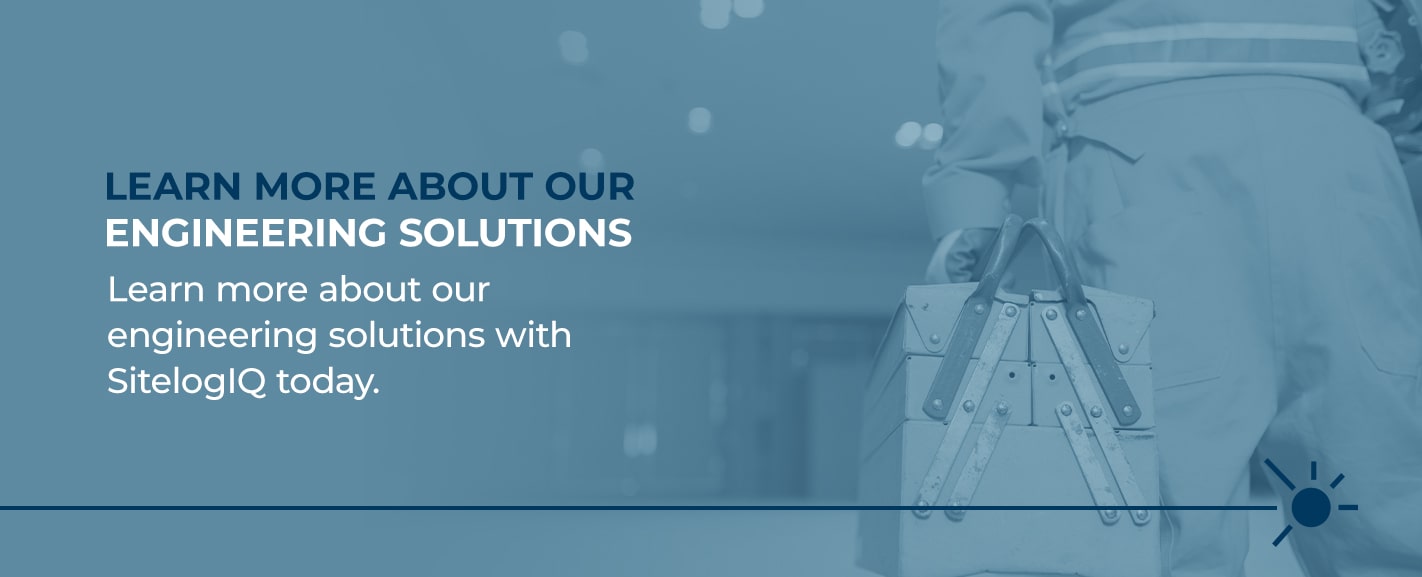 Master planning concentrates on future goals you would like to implement for the district's facilities. The master plan should reflect the vision and mission of the district as a whole. In many cases, finding the budget for upgrading an asset is unaffordable due to a lack of plans and inefficient facility care. Having a master plan helps you focus on what you will eventually need to pay for an upgrade when certain assets become unserviceable.
In addition, the master plan looks at a few different aspects than the long-term facility maintenance plan like:
Space usage
Technology
Programming needs
We recommend having both plans to ensure care for all facilities. Having a long-term district facility maintenance plan nestled into your master planning is a great strategy. Managing both can be easier with SitelogIQ's professionals, services, and tools.
SitelogIQ's Approach to Long-Term Facility Maintenance
We know facility management can be a challenge with many hurdles and roadblocks, which is why our approach is dependable, consistent, and led by highly skilled professionals. Our solutions create healthy, comfortable learning environments that promote productivity and improved experiences.
For K-12 facility solutions, we are a full-service company offering many critical services for aging district buildings. We are dedicated and involved in all aspects of facility planning, design, and management. We have experience in mechanical, plumbing, energy efficiency, lighting, and building controls solutions.
The benefits of our maintenance plans and team include:
Extending your equipment life
Creating energy savings
Lessening expensive repairs
Reducing downtime
Increasing productivity
Increasing profits
Engineering custom solutions
Offering emergency service 24/7
Offering the expertise of professional architects, engineers, contractors, automation experts, energy specialists, and designers
Advantages of our master planning for 21st-century environments include:
Mitigating risk
Developing a phasing and implementation schedule
Identifying your priorities
Conducting a preliminary study for functional needs
Establishing strategies for energy efficiency at your location
Creating conceptual design and order of magnitude estimates
Learn More About Our Engineering Solutions
SitelogIQ's engineering solutions are grounded in the best practices for facilities maintenance, meeting the needs of your students, parents, teachers, staff, and community members. We prioritize maintainable spaces, sustainability, life-cycle costs for the future growth and development of your K-12 district. We design solutions that gracefully adapt to changes in your vision and stand the test of time. Learn more about our engineering solutions with SitelogIQ today.