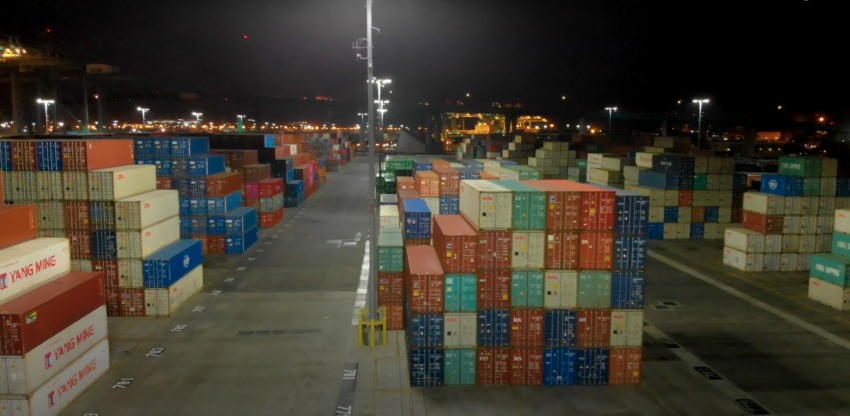 Sustainable Operations as Key Priority
Ports America is the largest U.S. terminal operator and stevedore, with operations in every major port in the nation. With more than 90 years of experience through predecessor companies, Ports America possesses dedicated resources that only a company of such scale and scope can deliver, including skilled personnel, robust training programs, best-in-class technology, and experienced management.
The Port of Los Angeles, otherwise known as "America's Seaport" stands as a central hub connecting North America to the Pacific, serving as a global hub for
approximately 20% of all cargo entering the United States. As one of the major port terminals, the West Basin Container Terminal (WBCT) has long operated as a leader in environmental sustainability—and continues to strive to reduce its carbon footprint.
Ports America continually strives to find new ways to reduce its carbon footprint while saving on operating costs and focusing on maximum safety and security for its longshore staff.
The Challenge: Meeting Distribution Energy Efficiency and Sustainability Goals
Ports America faced challenges in maintaining standard terminal operations without interruption while increasingly experiencing costly and lengthy maintenance issues associated with on-site upkeep. Every time a portlight went out, the impact was highly detrimental to operational efficiency, as well as on-site safety and security of longshore.
West Basin Container Terminal needed to strengthen its sustainability measures to stay compliant with local regulations; Los Angeles had adopted a bold "net zero" greenhouse gas emissions goal, calling for the city to be carbon neutral by 2050. The terminal would need to begin preparing now to meet higher environmental standards demanded in today's business and regulatory climate.
Ports America met with a variety of potential vendors, but none could meet the understanding of their needs while holding deep technical expertise of the ports environment.
The Solution: Distribution Expertise and High-Grade Implementation
Working in close partnership, SitelogIQ brought a deep understanding of the distribution environment and associated challenges. If longshore were unable to unload shipping containers during operating hours, the disruption would result in hundreds of thousands of dollars being lost. The SitelogIQ team was uniquely positioned to ensure the sustainability initiative could be completed without costly disruptions to day-to-day operations.
SitelogIQ worked with port staff to ensure operations were safely maintained through every project phase while presenting a range of photometric designs specific to the ports industry, sharing solutions that could withstand tough conditions of distributions hubs.
Ports America was able to strengthen its position as an industry leader and significantly reduce its carbon footprint by embracing LED lighting.